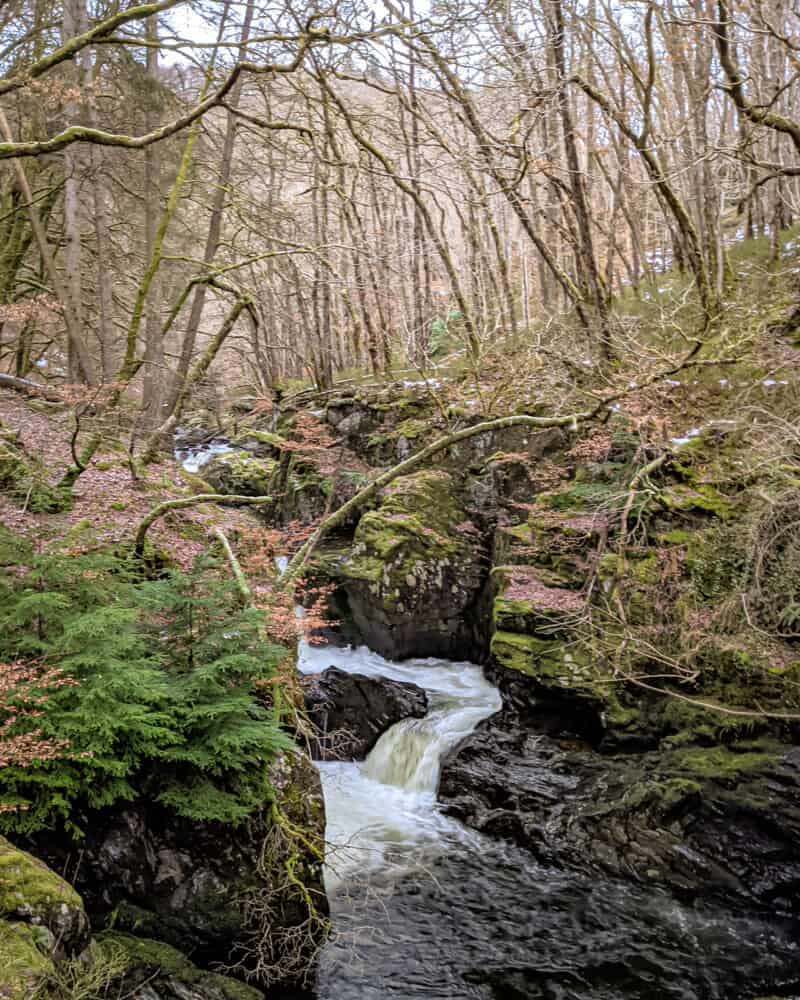 Deil's Cauldron Nature Walk
"The River Lednock cascades out from a rocky gorge in the atmospheric tree-clad amphitheatre known as the Deil's Cauldron."
What better description for a mini-getaway and breath of fresh air? For this reason, I decided to stretch my legs by exploring this popular trail. It is featured in many trail websites due to its many waterfalls. Besides, what could be more tantalizing than visiting a place named "The Devil's Kettle"?

First, I'll give my recommendation for a pre-hike snack. Secondly, I'll give some tips on finding your way around the trail. Moreover, I'll share a few interesting facts about the top three sights on this trail. These sights include the infamous Deil's and Wee Cauldron and the Melville Monument. Shall we begin?
OJ's Pantry / James Square, Crieff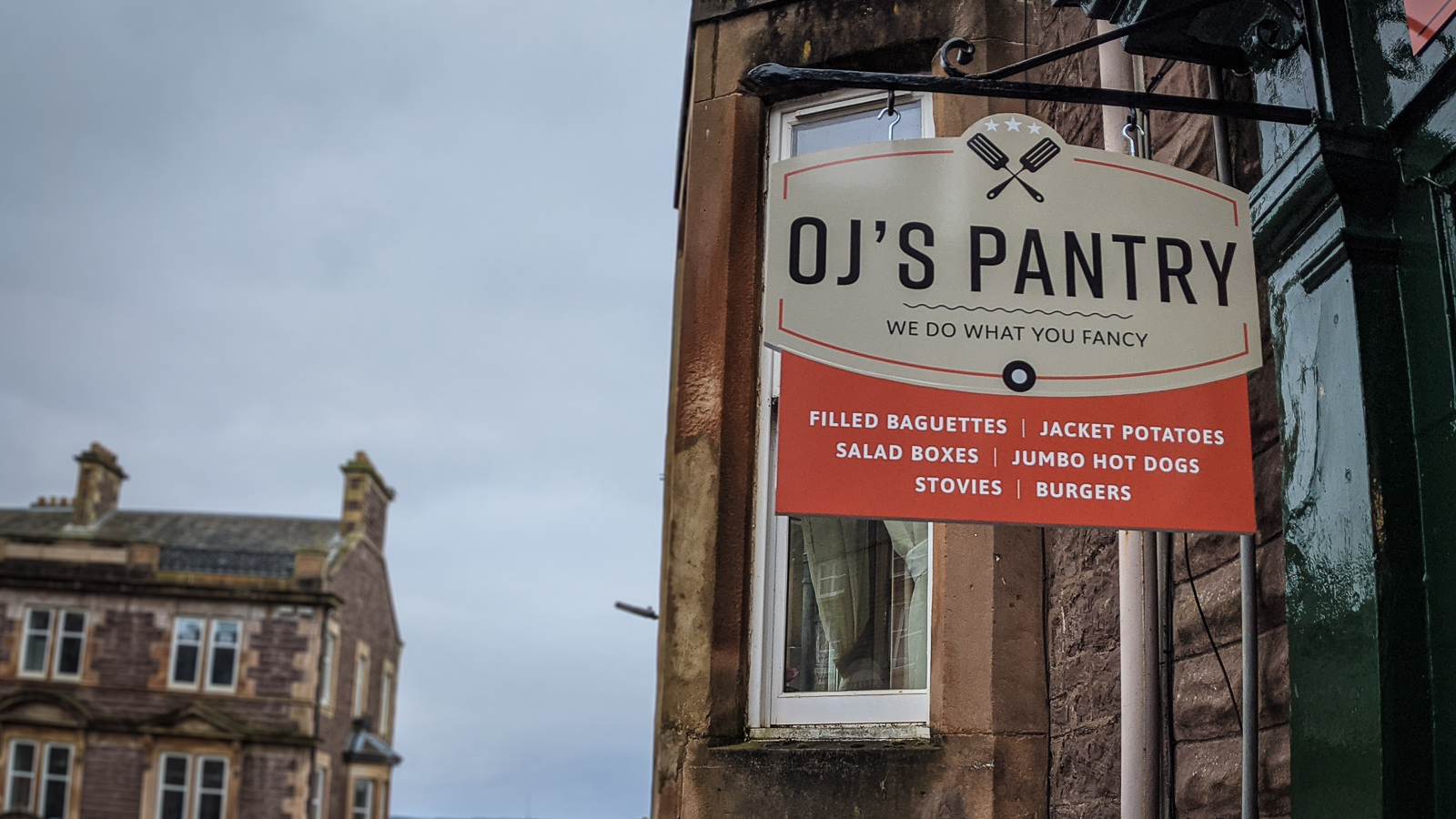 First, never start a hike on an empty stomach so support your local shops by grabbing a bite to eat. Although Deil's Cauldron is located in the village of Comrie, I happened to take a small detour nearby in Crieff. I'm so glad I did because OJ's Pantry had the most amazing hotdogs! Plus, I was inspired to visit this town on another trip because it looked like it came straight out of the medieval times.
River Lednock / Comrie, Scotland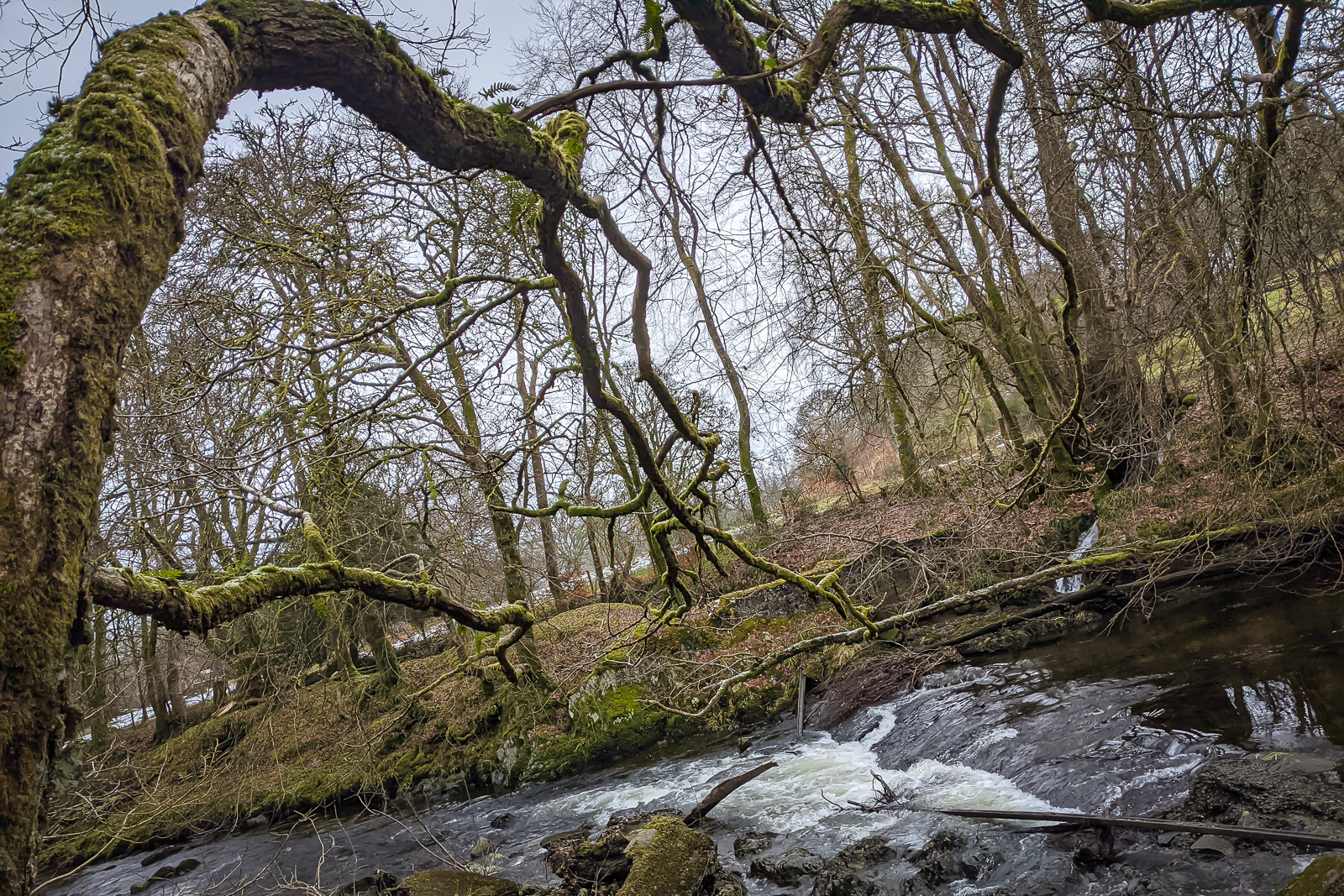 I then finished my drive to Comrie. Comrie is located in the Perthshire Scottish Highlands and is surrounded by beautiful natural scenery. The heart of this lush atmosphere is the River Lednock. The river originates from the upper Glen Ledmark and burrows its way through the rocky gorge to form the cauldrons further on. I started the circular walk by taking the path right.
Environmentally Conscious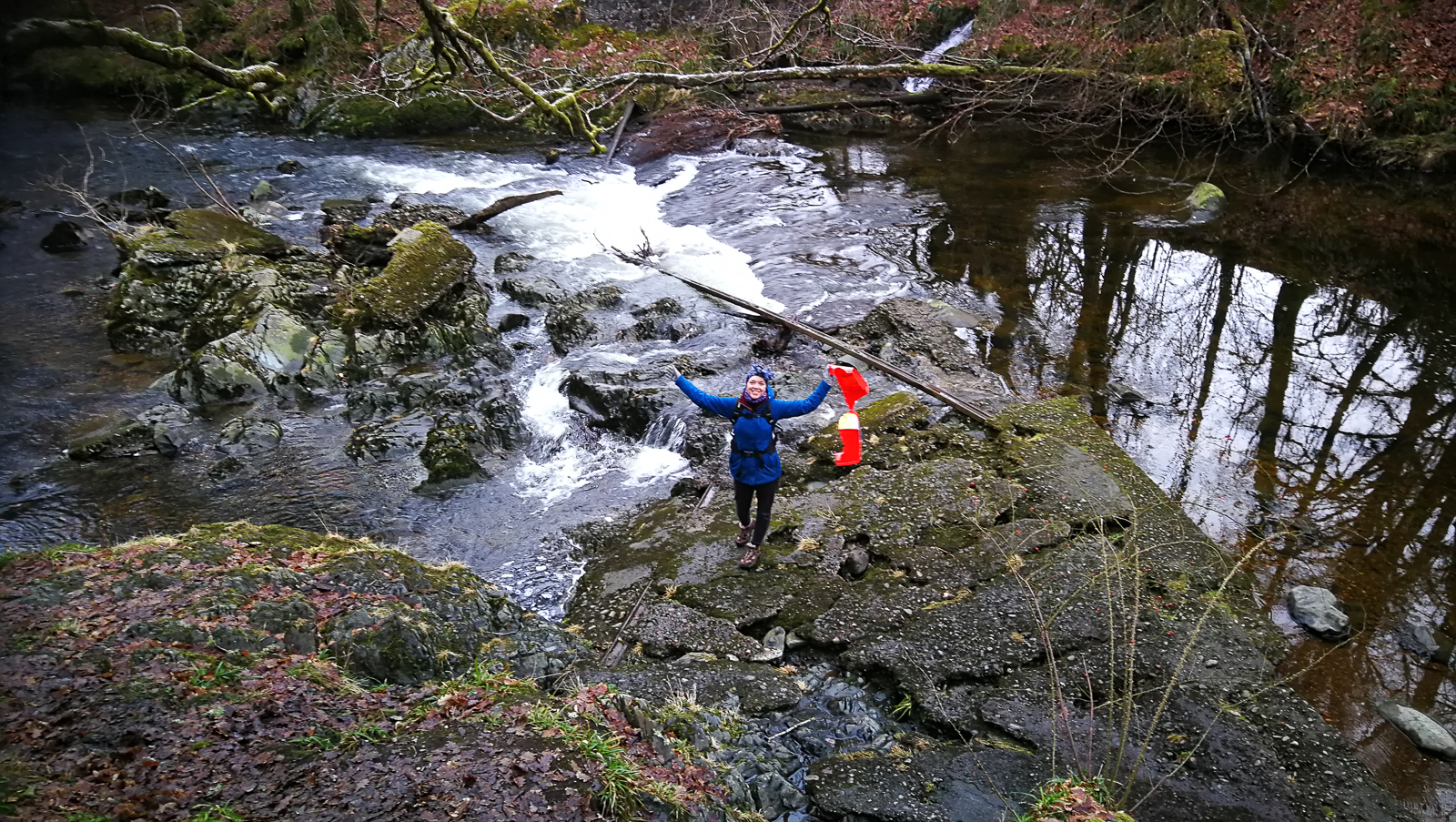 Every day is Earth Day for the MBV team. We stay true to our Washington State roots and try to pick up litter when we see it. For instance, I saw this bright red plastic debris stuck in the river rocks, and hopped across the rocks to yank it out. However, I highly recommend wearing waterproof hiking shoes because I definitely slipped on the way back!
Railed Pathway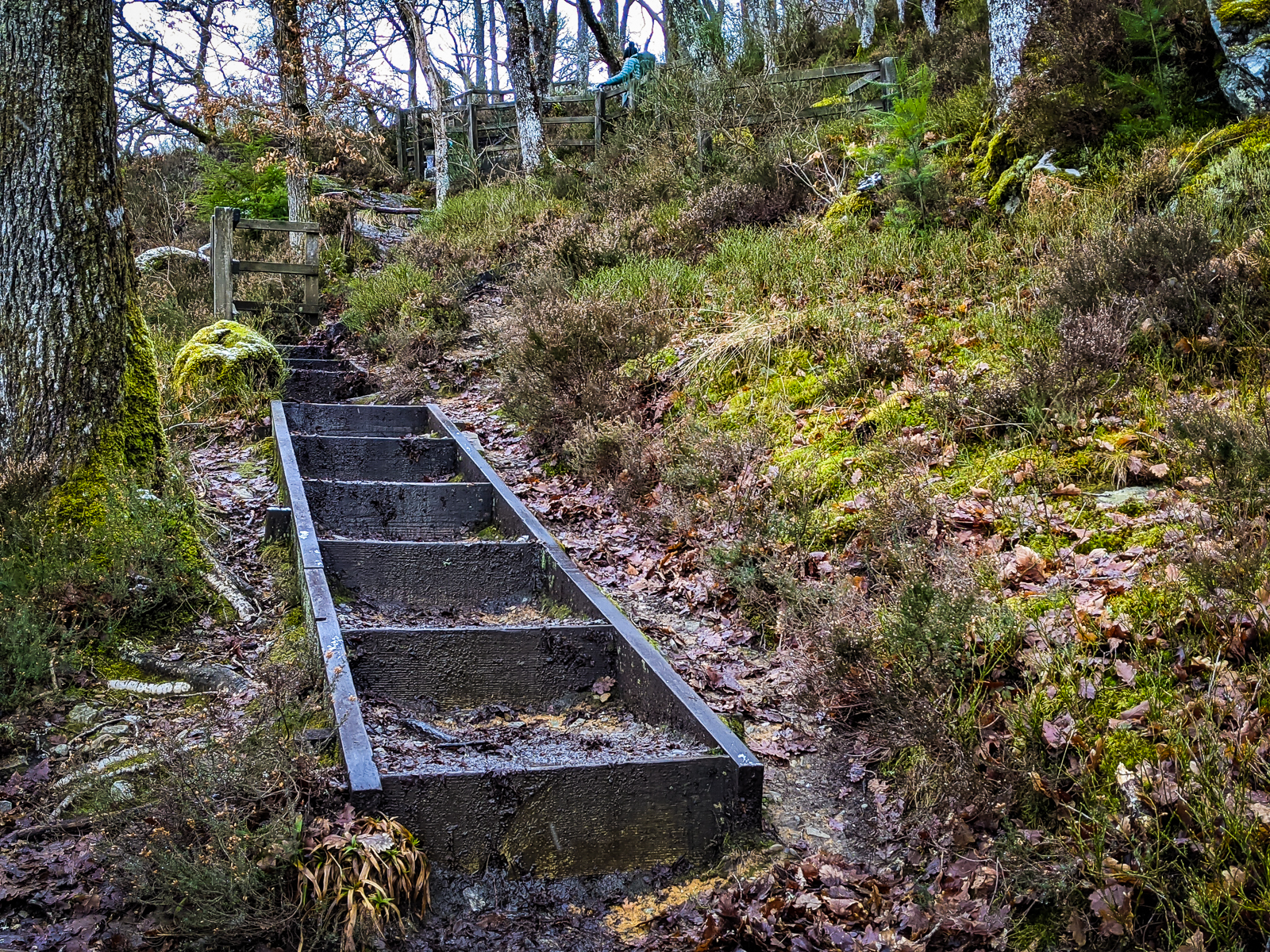 Next, enjoy the beautiful beech woods as you climb up. The steps zig-zag back and forth until you reach a vista with a bench. I, personally, cannot wait to see these trees in the spring.
Snowy Comrie Valley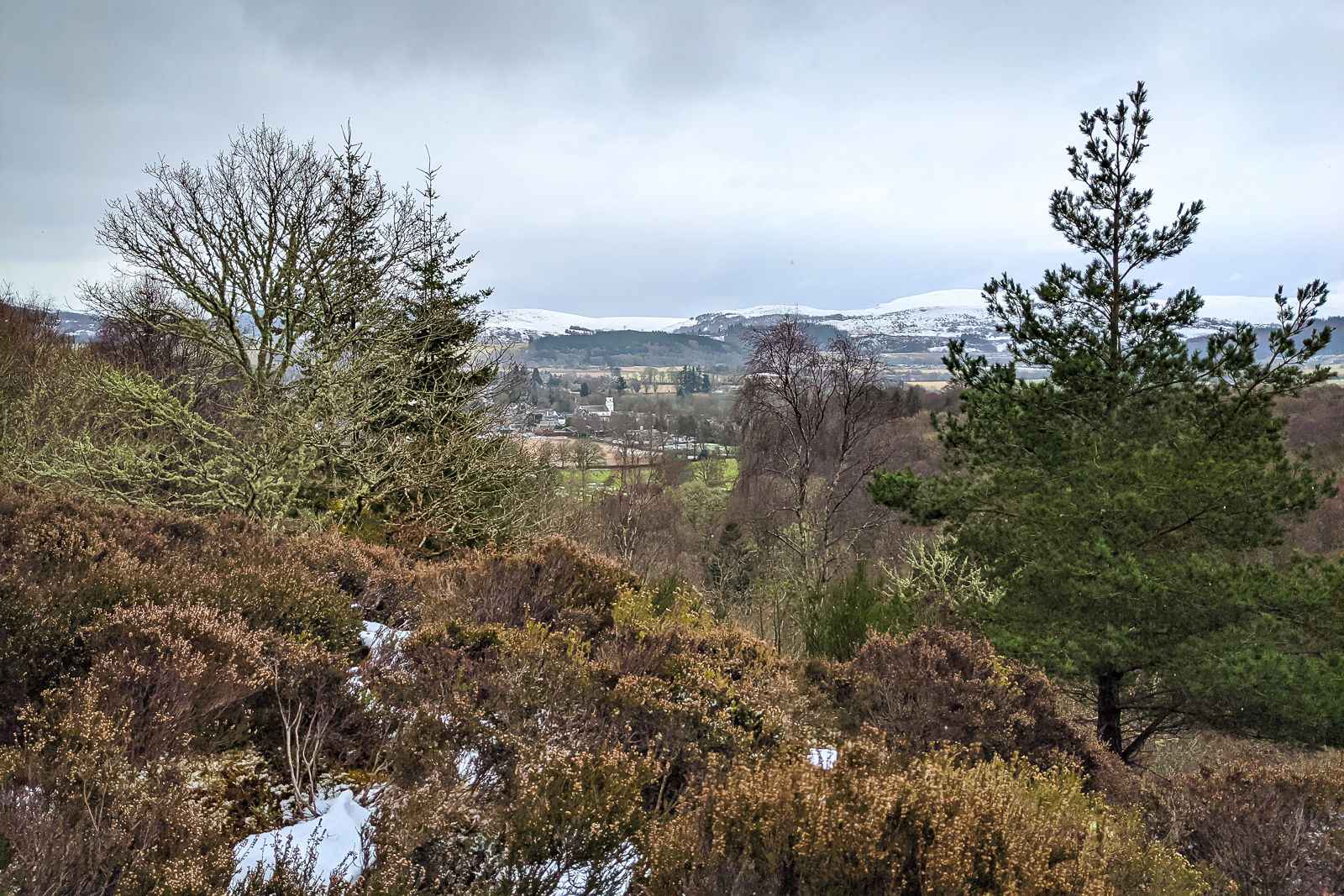 There are many perfect locations to take a break along this trail. For example, this one was my favourite because it was a perfect spot to have a picnic and a vape break. Across the Strath Earn are the Ochils whilst there is a glimpse of Loch Earn, with Ben Vorlich and Stuc a'Chroin visible high above.
Melville Monument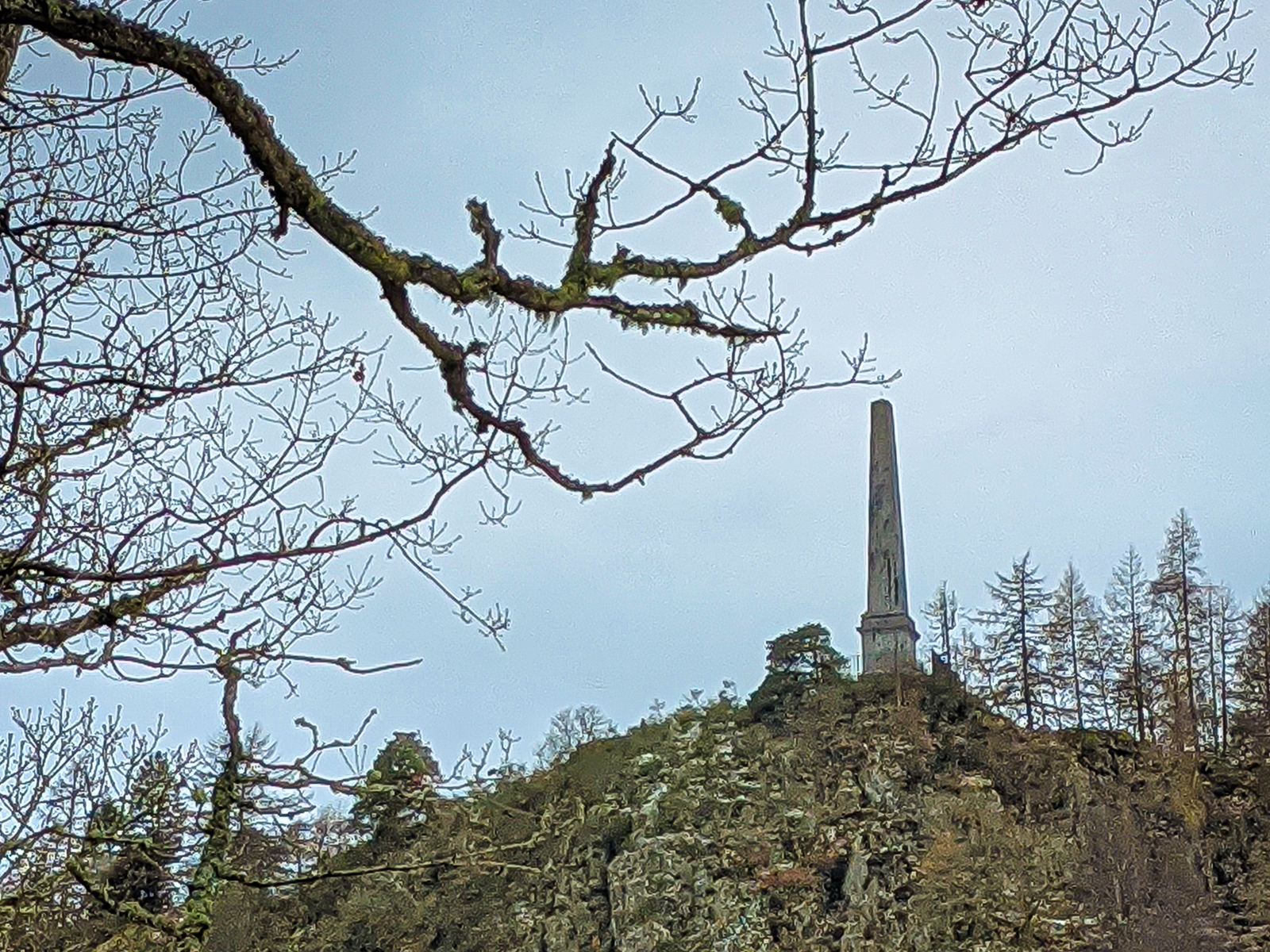 Next, I continued along the path with the river and valley to my left flank. There were many glimpses of the Melville Monument atop Dun More from this vantage point. Apparently, the obelisk was built in 1812 as a memorial to Henry Dundas, Viscount Melville. To clarify, Lord Melville is the Scotsman infamously known as the "uncrowned King of Scotland" 2.
Trekking Equipment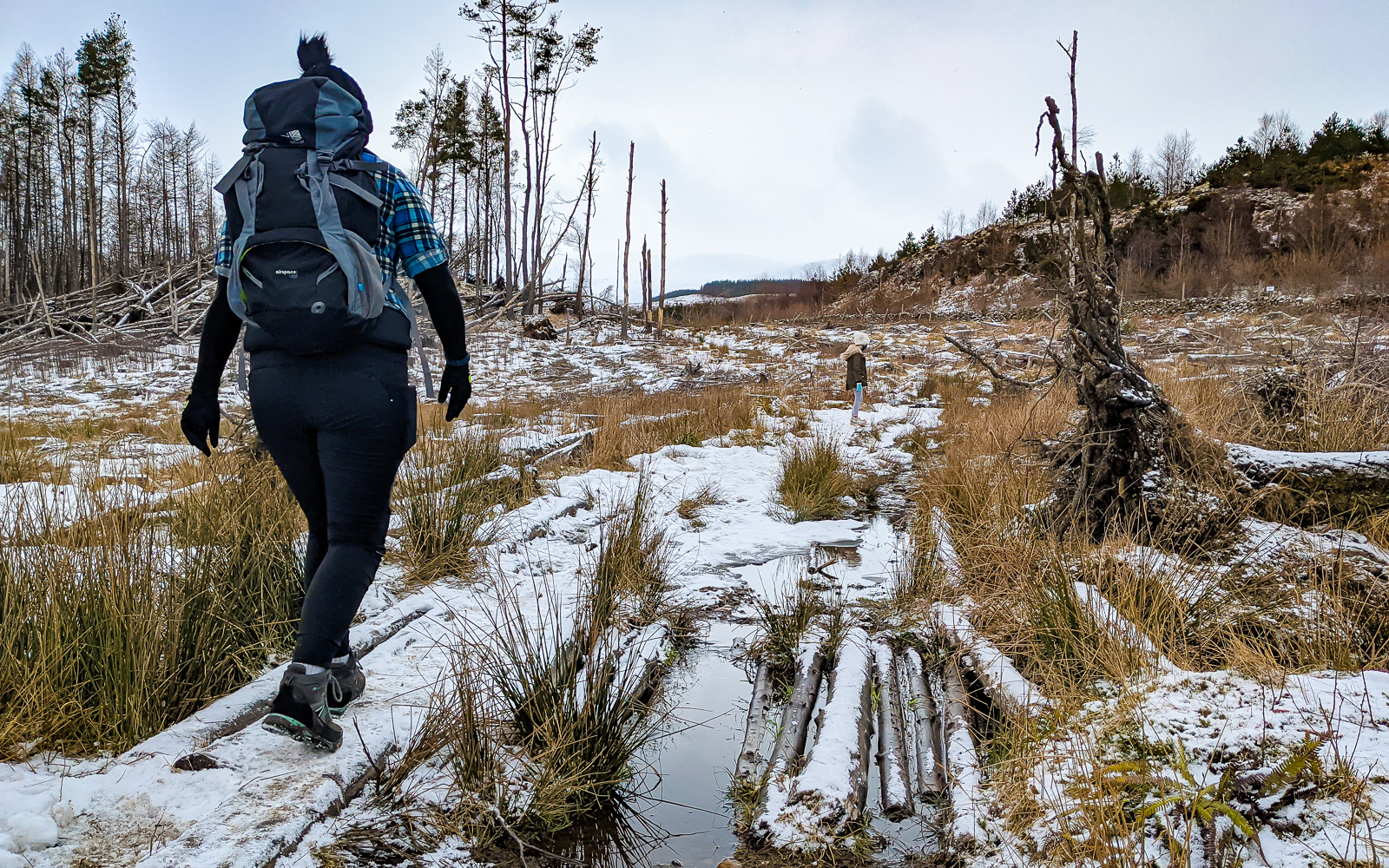 Importantly, I must give a few suggestions for trekking equipment. Firstly, non-slip aids such as Yaktraks are incredibly useful in icy or muddy conditions. Secondly, invest in a quality hiking pack to carry ample water, extra layers of clothing and snacks. Lastly, always bring a lightweight hard-shell jacket in case winds pick up or it starts raining.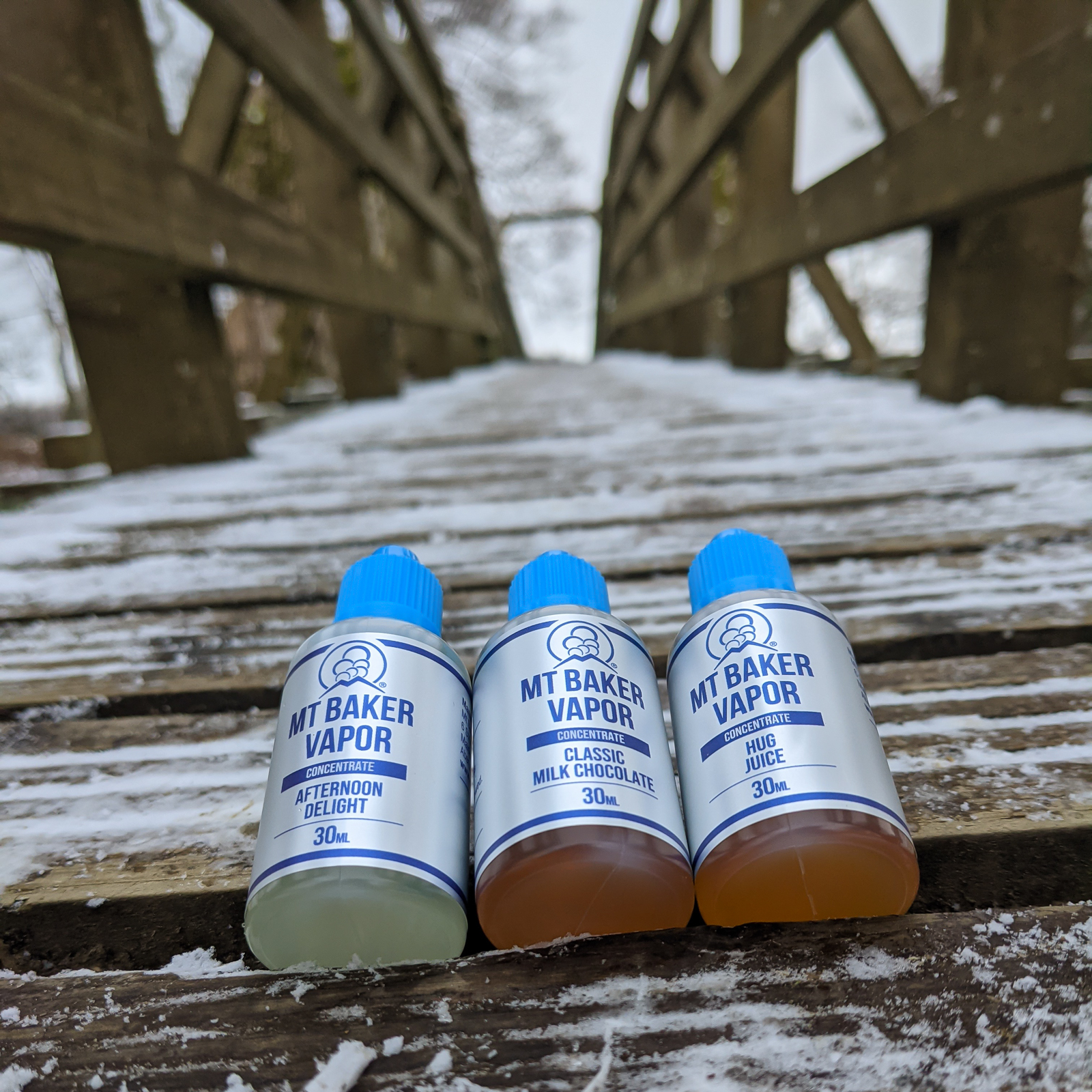 Meanwhile, I reached the Shaky Bridge about halfway through the walk. It was a good stopping point to take pics of the e-juice I brought with me. Additionally, I prepared for the most interesting part of the walk. After all, they saved the best for last!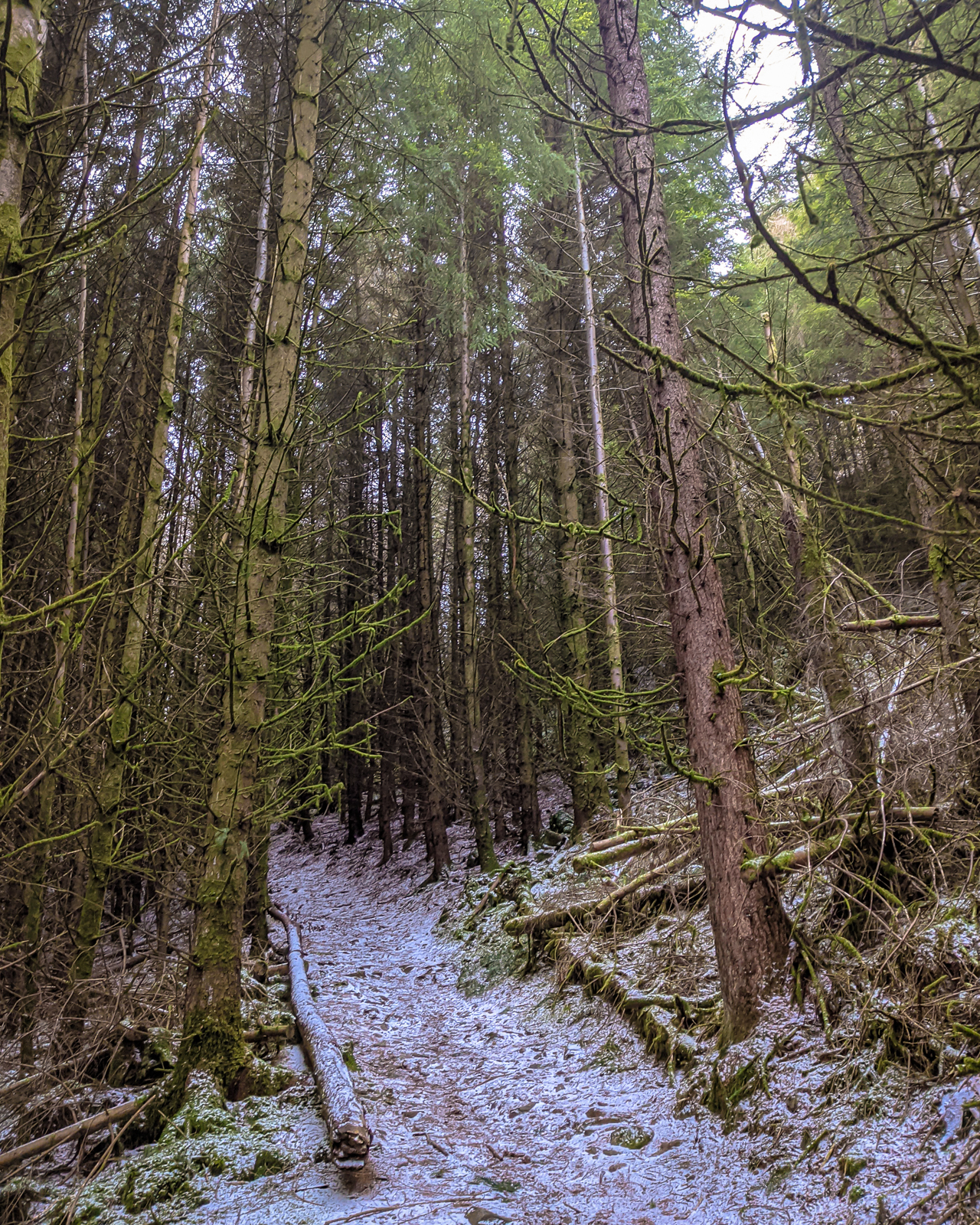 Interestingly, the path to Melville Monument is a bit difficult to see. Thankfully it is optional because of how steep it is. I wouldn't recommend the climb if you have sore knees or cranky kids along, but it is certainly worth the trek on a nice day. Moreover, the thick woods definitely give off a fairy-tale atmosphere.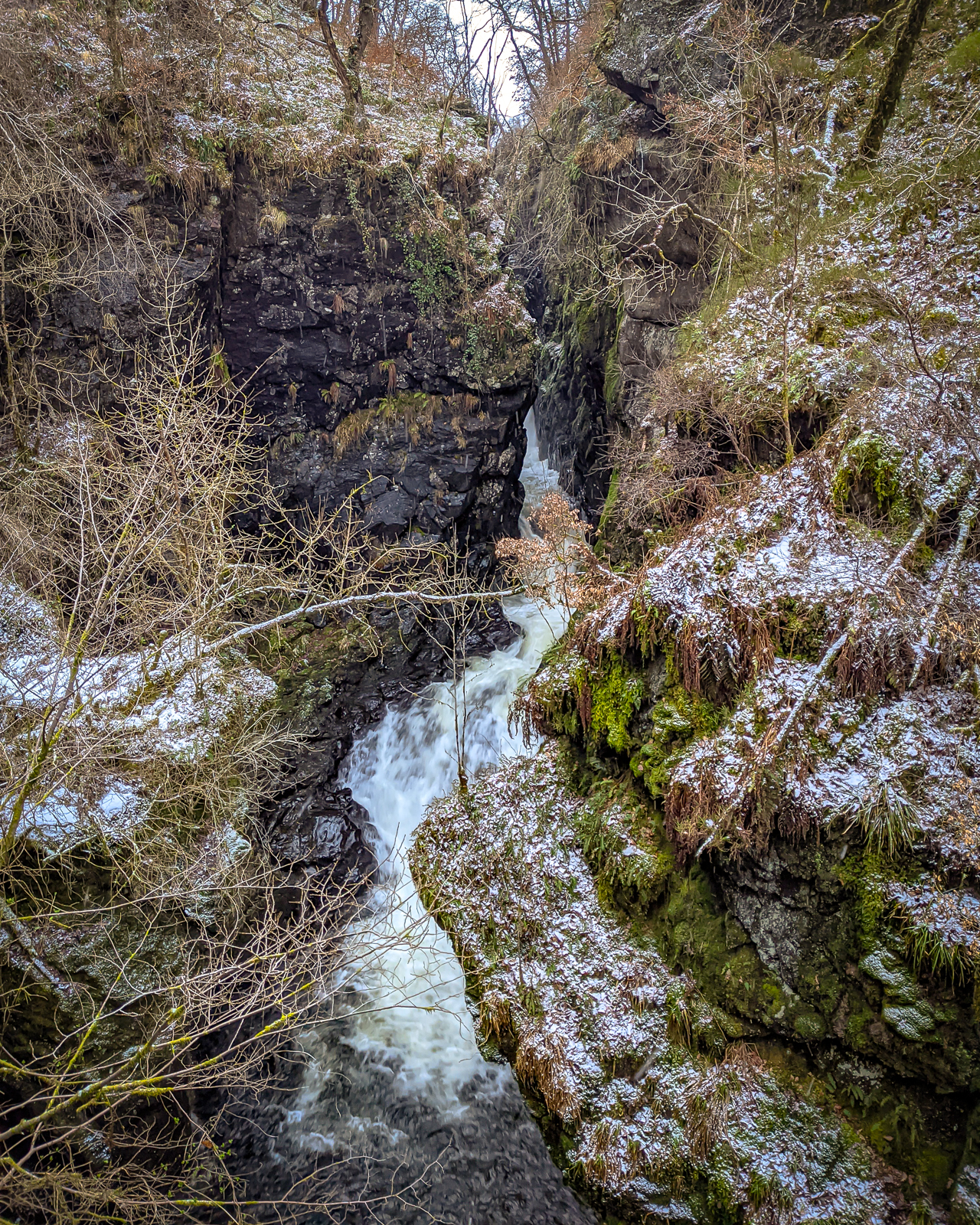 After the obelisk, continue down the path. You'll start to hear the roar of the waterfalls to the left in the gorge. Look for the signed post that leads you down wooden steps. I had to be extremely careful this day because of the snow. For instance, wood gets very slippery! Eventually you'll reach the wooden viewing platform overlooking the Deil's Cauldron.
Wee Cauldron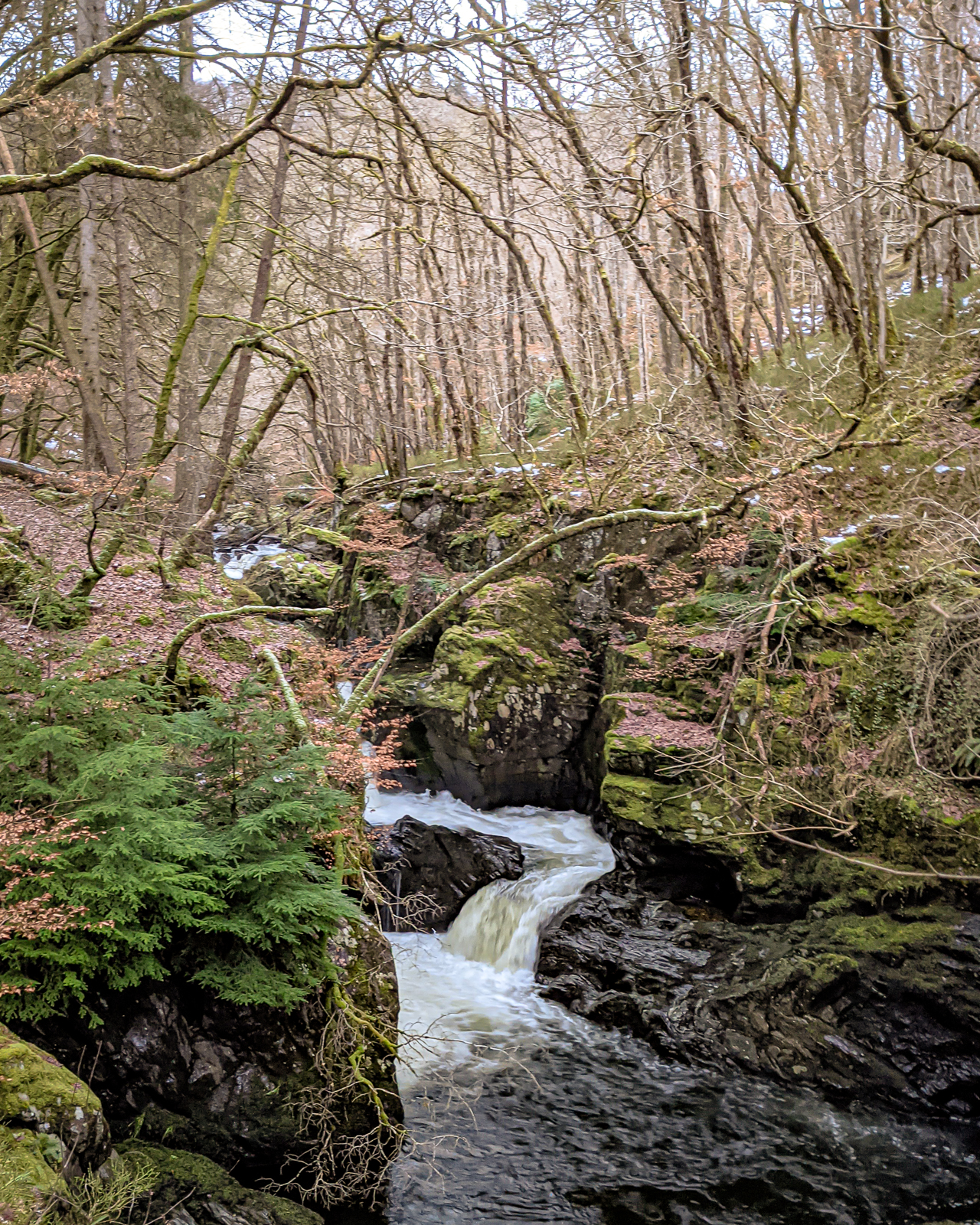 Subsequently, the Wee Cauldron is a short distance past the Deil's Cauldron. The River Lednock has carved away this gorge to create these roaring falls and pools. They are collectively called Slocha'n Donish and hold an eerie legend that it was "the favourite haunt of a brownie or water elf called Uris-chidh who enticed victims down into the huge natural pothole."
Trailhead Carpark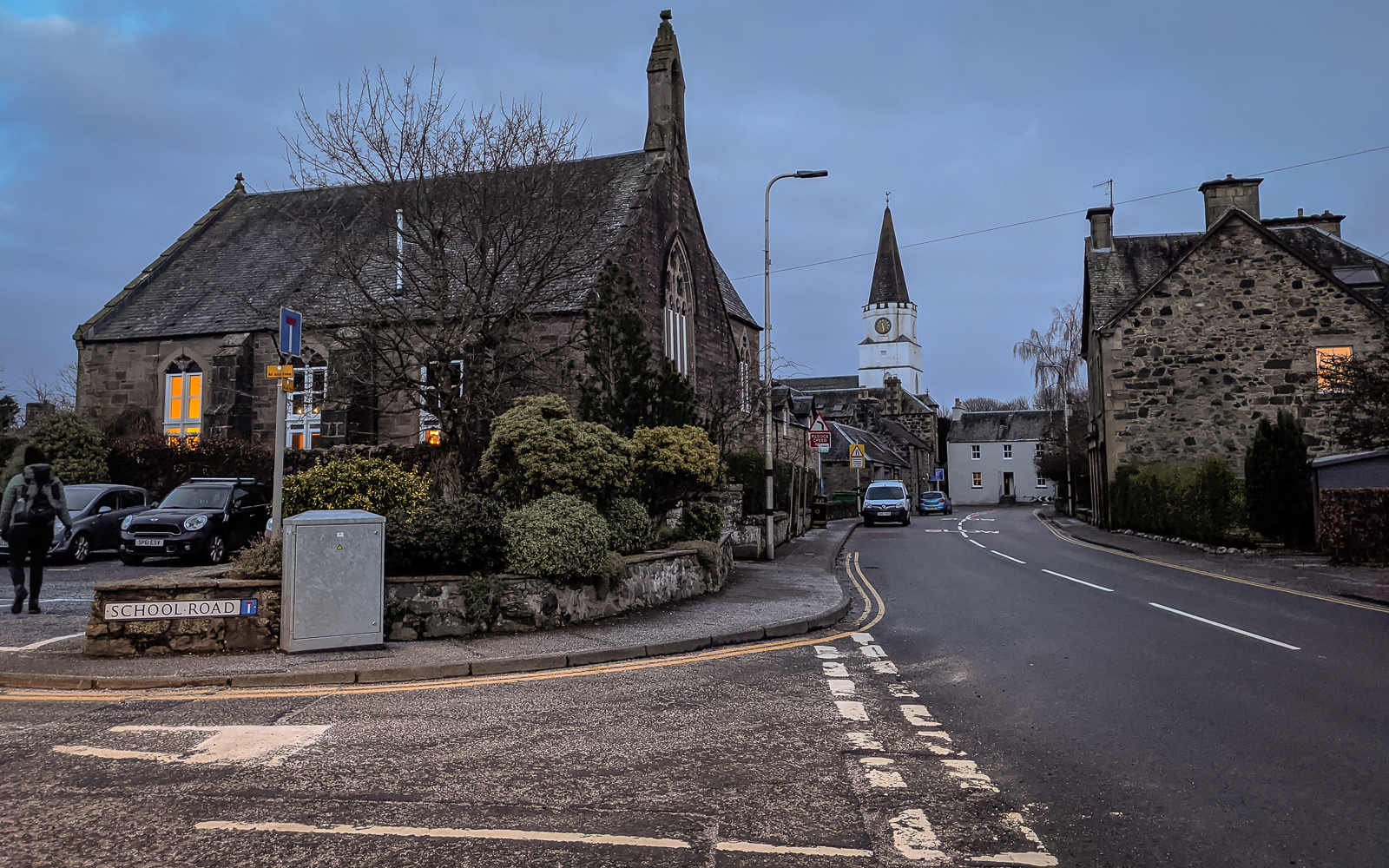 Finally, I finished the Lednock Circular Walk and reached the car park in Comrie. The sun had started to set and the village looked quaint as ever. Fortunately, the car park is located in front of the trailhead in the west end of Comrie. I look forward to seeing more shops in town after the pandemic, and I am left eagerly waiting for my next visit.
Hope you've enjoyed our adventures today. Don't forget to follow Mt Baker Vapor International on all of your favourite social media platforms!